At ServiceMaster Brands, our mission is Making Everyday Heroes More Heroic™. That's why we love featuring the bravest of everyday heroes: our military. We're proud to support veterans and active-duty military members. In honor of Veterans Day, we're highlighting the service members closest to our hearts: our team members.
Teamwork, attention to detail, and discipline are important lessons Chad brought from the Navy into his current role as Fleet Safety Specialist at TWO MEN AND A TRUCK(TMT). He considers these skills that could save your life, especially in the military or police operations. Those same lessons have served him and his team well at TMT as they work together to interpret the federal regulations, create and lead training webinars for the entire system, conduct mock audits, create DOT training programs/resources, and much more.
Despite being happy in his role, Chad faced challenges in the beginning, especially due to having little experience in business. "I joined the Navy when I was 24, so I had experienced a little of the business world before enlisting. When I exited the military, I was still unsure what I wanted to do. At the same time, I was hyper-focused on completing my degree," Chad says. He was in the Michigan State Police before working at TMT, and going from Department of Transportation (DOT) Officer to a business role wasn't easy. "In the State Police, my office was my patrol car. I wasn't used to daily meetings, giving presentations, dual screen monitors, traveling, and conducting audits," Chad explains.
Working for TMT has taught Chad a lot about the business world. "I am truly grateful to my boss and the TWO MEN AND A TRUCK family and ServiceMaster® Brands. I joined the brand because their core values aligned with mine," he says. Chad has always wanted to be part of something greater, and that's why he served in the Navy, in the Michigan State Police, as a volunteer firefighter, and TWO MEN AND A TRUCK/ServiceMaster Brands. Besides enjoying working towards a bigger purpose, Chad likes an important mutual respect rule from his military days that he also recognized at TWO MEN AND A TRUCK: "THE GRANDMA RULE®: To treat everyone the way you would want your grandma to be treated," Chad explains.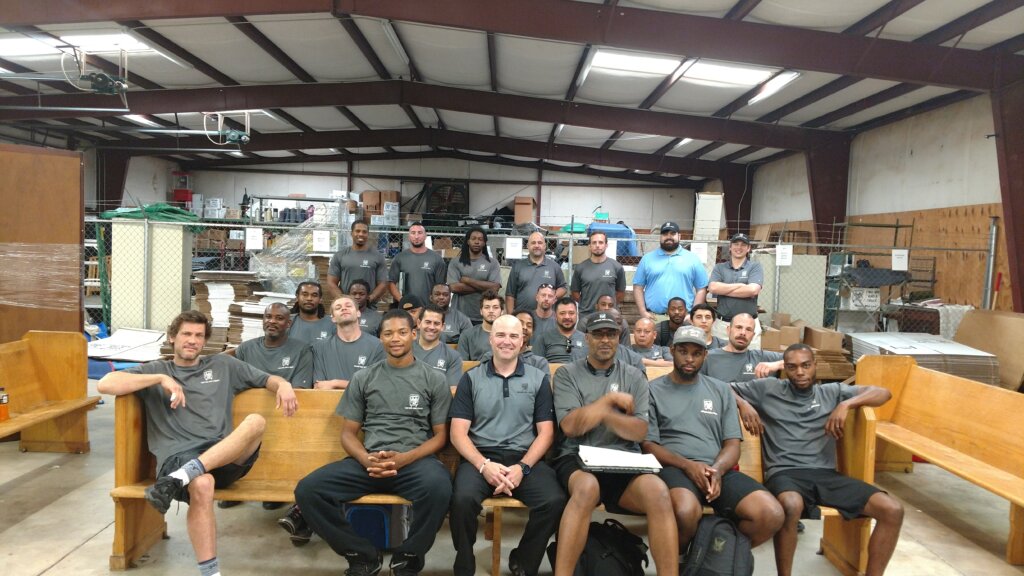 As a respectful and hard-working team member, he has achieved great things along with his team at TWO MEN AND A TRUCK. "Brian Dow, me, and our Compliance Director, Pamela Batten, are a small group of subject matter experts. We are on a mission to bring the safety concerns to the forefront of the fleet's minds," Chad explains. They have fulfilled their goals on multiple platforms and will continue creating and presenting DOT training programs and fleet safety awareness initiatives, providing defensive driver training, conducting DOT mock audits, and simplifying and consolidating DOT training material so it's easier for franchises to digest. For Chad, teamwork makes the dream work — and the ServiceMaster Brands family couldn't agree more.